---
Quick Facts:

BenQ W1080ST+ Throw Distance Chart

(Examples for common Sizes)

Image Size
Installation Distance
(Approx. To Lens)
92" (16:9) 2030x1140mm
From 1.45m to 1.65m
100" (16:9) 2130x1200mm
From 1.55m to 1.80m
110" (16:9) 2435x1370mm
From 1.70m to 2.00m
120" (16:9) 2580x1450mm
From 1.85m to 2.20m

SPECIFICATIONS

Native Resolution: WUXGA 1920 x 1080 16:9

Brightness: 2200 ANSI Lumens

Maximum Contrast: 10,000:1

Weight: 2.85kg

Fan Noise: 31 / 28db (eco)

Warranty: 2 Years (

+1 Year $119

)

Lamp Warranty: 6months/750hrs

Lamp Life Up To: 6,000hrs

FEATURES
- Short Throw
- 1.2x Zoom
- Vertical Keystone Correction
- Horizontal Keystone Correction
- 2x HDMI connections
- MHL Compatible
- Powerfull 10W Speaker
- 3D Capable(3D glasses required)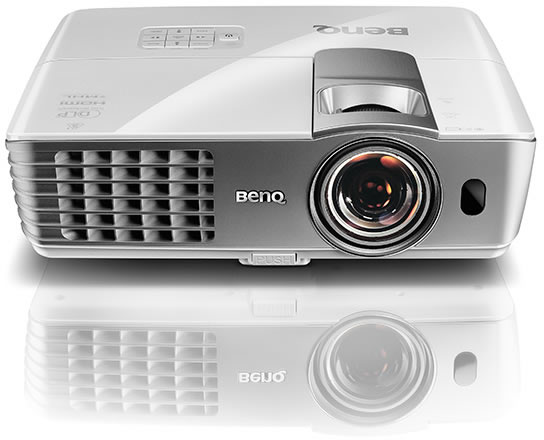 Maximized Wireless Full HD Enjoyment in Small Spaces (Wireless Optional)
With the W1080ST+, incredible 1080p Full HD home entertainment is just a click away! Featuring new-generation wireless connectivity, side projection and short-throw technology, the living room projector gives you the installation and placement flexibility to turns your favorite multimedia content into 100" of cinematic enjoyment from only 1.5 meters away – so you can turn your living spaces into an entertainment center for console gaming, movies and videos without worrying about having enough room or wiring and remodeling troubles.

Cable-free, One-Stop Home Entertainment

New-Generation Wireless Full HD Kit
Designed to Give You More Freedom and Less Hassle (

Optional

)

The W1080ST+ frees you from wiring troubles, placement hassles, as well as extra remodeling costs with BenQ's new-generation Wireless Full HD Kit. Available as an optional accessory, this powerful kit enables the W1080ST+ to stream uncompressed, stunning 1080p Full HD content wirelessly – and with 3D support. So you can kick back, relax and enjoy your favorite movies and games!

‧Absolute Convenience | One-Time Setup
Only a few steps are required to set up the kit once and for all to give you plug-and-play convenience like no other. Once everything is connected correctly, the transmitter and the receiver will automatically pair up with the W1080ST+ the first time you power them on – and turn on to re-connect with the projector every time after. To save you from all the cable trouble, the customized receiver box can be easily mounted to the right side of the W1080ST+ and electronically charged by the projector instead of taking up another power socket. It just doesn't get easier than this.
‧Unparalleled Transmission Technology| Fluid Cross-Room Streaming
The W1080ST+ comes with a wireless coverage of up to 30 meters (100 feet) in distance at line of sight and four built-in antennas to ensure the best streaming quality through cabinet doors and from one room to the next. The home projector also delivers a latency-free performance ideal for playing fast-action and motion-sensing games. Time to get ready for high quality audiovisual enjoyment and the smoothest gaming experience in the living room or in the privacy of your bedroom.
*Transmission distance depends on actual environment. Stated distance is based on line-of-sight measurement. Structures constructed of steel, wood, concrete, or brick may decrease transmission distance.
‧Zero Interference | DFS Anti-Interference Performance
With a Dynamic Frequency Selection (DFS) mechanism to automatically switch between channels when encountering signal interference, an incredibly stable HD streaming quality is all you'll get.

10W Immersive Sound Performance
The built-in 10W resonant chamber speaker is expertly tuned to enhance the W1080ST+'s audio playback quality with deeper base tones – offering you a truly immersive audio performance that's free of stereo speaker wiring troubles. What's more, there are four preset sound modes and one equalizer setting available for you to match to the music of your choice for the most optimal audio enjoyment.
Projection Installation Flexibility
Side Projection with Horizontal Keystone Correction
The horizontal, or side-to-side, keystone correction feature comes in handy when you have a hard time clearing up your living room table or finding an ideal placement for the W1080ST+. By enabling you to correct the trapezoid effect, which occurs when a projector is placed off center, this feature offers you the flexibility you need to turn unused corners or space, such as the side table, into the perfect place for the W1080ST+.

Superior Short-throw Projection with 100" of Big-Screen Enjoyment at 1.5 Meters

Built with BenQ's world-leading short-throw projection technology, the W1080ST+ gives you 100" of big-screen home entertainment fun at only 1.5 meters – freeing you from space constraints, shadow disruptions and glares from the projection light with more installation flexibility! Plus, with all the extra space, you can even make room for motion-sensing video games with friends and family!

Flexible Zoom for Extra Installation Freedom
Say goodbye to changing your home décor to accommodate your projector! The W1080ST+ is built to free up your living space with a 1.2x flexible zoom that supports remodeling-free projector installation with a flexible range of projection distances.


Brilliant Image Performance
Spectacular Full HD 1080p Picture Performance
The W1080ST+ spoils your eyes with true-to-life image quality brought to you by BenQ's 1080p Full HD optimized optical system, which is made up of a projection lens that is comprised with only glass-made lens elements. So you can enjoy your favorite high-definition multimedia content with the best clarity and sharpness – from Blu-ray DVDs to video games and HD broadcasting.


6X-Speed RGBRGB Color Wheel
A six-segment color wheel (RGBRGB) with six times the speed is adapted to produce incredibly realistic color depth and range – with BrilliantColor™ Technology further boosting every color to achieve a truly captivating, lifelike color performance. So you can enjoy the show in pure, living splendor.
Independent Color Management
BenQ's exclusive color management tool ensures 100% uncompromised color customization with the freedom and flexibility to independently fine-tune the hue and saturation levels of each of the six color wheel tones.
ISFccc® Certification for Professional Projection Calibration

Obtaining professional results is easy with the Imaging Science Foundation's highly reputed ISFccc® calibration service. Under the W1080ST+'s ISF calibration menu, the ISF technicians can custom-calibrate the projector's image quality with optimized color performances to your home environment, along with two specialty modes – ISF Day and Night modes – that bring pure pleasure to your eye all day long.
Superior Contrast Performance with DarkChip3™
The W1080ST+ is built with Texas Instrument's advanced DarkChip3 DLP® Technology, which projects higher brightness and deeper black levels by filling in the area where the digital micro mirror connects to its hinge to produce smooth, film-like image quality.

A 3D Cinematic Experience in the Comfort of Your Home

The W1080ST+ supports multiple forms of 3D with amazing 1080p Full HD quality, including HDMI 1.4a 3D, Blu-ray, 3D broadcasting, video games and NVIDIA 3DTV PC connectivity – crosstalk free. So you can maximize your 3D enjoyment with ease.
High Native ANSI Contrast Ratio
Native contrast, otherwise known as ANSI contrast, is what drives the perceived quality of an image. As demonstrated in the patterns below, ANSI (American National Standards Institute) measures and compares the brightness of black and white segments, offering a more accurate representation of a projector's contrast performance besides FOFO (Full On/Full Off), which measures and compares the brightness of full black and full white screens. Since the reality is that most of the images projected are not strictly 100% black and white but a mixed of black and white segments. With a high 500:1 ANSI contrast ratio, the W1080ST+ is built to reveal the subtlest details in the deepest, truest blacks.
‧ Full On/Off Contrast Ratio
measures and compares the brightness of full black and full white screens.
‧ ANSI Contrast Ratio
measures and compares the brightness of black and white segments
Highly Responsive for Gaming in the Fast Lane
With a high response time and low latency rate, the W1080ST+ makes an ideal video gaming mate for you and your loved ones. An ultra-smooth projection means you get an uninterrupted, immersive fast-motion gaming experience when you're racing through the lanes with your PS4 or having a swing at the boxing match with your X-Box Kinect.

Easy and Simple Operation
Intuitive User Interface Design Made Smarter
The W1080ST+ is made utterly simple to operate with a whole new self-explanatory user interface design that's easy for anyone to figure out.
Plus, the advanced Auto Source Detection, which now detects the input source with half the original speed, even highlights the detected source with the color green to signal 'go' with this source.
First Timer-Friendly Setup Wizard
For setting up the W1080ST+ for the very first time, simply follow the step-by-step visual instructions provided on the friendly user interface of the setup wizard. You'll be done with the setup process before you know it.

Plug-and-Play Mobile Entertainment with Mobile High-Definition Link (MHL)
With the support of MHL connectivity, the W1080ST+ enables flawless wired or wireless streaming of digital content from any MHL-equipped smart device via a MHL cable or a 3rd-party MHL dongle, such as a Roku dongle, respectively. This not only expands your mobile entertainment onto the big screen with a simple plug-and-play but also makes it easier to share the enjoyment with family and friends. Besides, you can browse websites, watch videos and play games without having to turn on your computer at all. Plus, you can access playback functions on your mobile device using the W1080ST+'s remote control!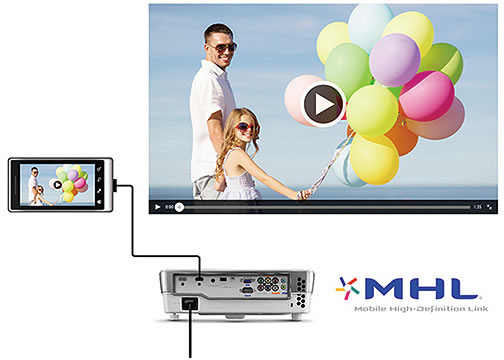 Saving More on Power Consumption with BenQ's SmartEco™ Technology
Offering lower TCO and optimized projection through dynamic power saving, uncompromised brightness, exquisite picture quality and optimized lamp life –SmartEcoTechnology has perfected what a DLP projector can do. With this innovation, schools and corporates are able to save up to 70% of lamp power consumption and lower maintenance costs through dynamic power saving features while bringing an ultra-vivid viewing experience into every presentation.
SmartEco Mode
The SmartEco Mode, which cleverly adjusts the lamp power to maximize power saving by delivering the best contrast and brightness performance using only as much light as needed.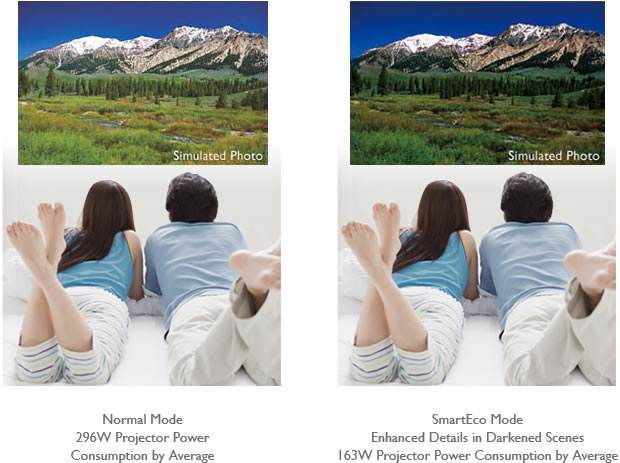 Eco Blank Mode
The Eco Blank mode allows you to blank the projection. When activated, this special feature dims the lamp power automatically, lowering the total power consumption by 70%.All you need to do is press the "Eco Blank Mode" button on the keypad or the "Blank" button on the remote control.You don't have to worry it's always fully lamp power consumption while you pause movie then leave.
No Source Detected Mode
The automatic switch to Eco Blank Mode after the projector is turned on for over three minutes without a display source, eliminating unnecessary energy waste and prolonging the life of the projector lamp.

ecoFACTS Label
ecoFACTS can tell you how eco-friendly BenQ products are!
Development of eco-friendly products, BenQ doesn't just want to comply with green regulations passively, but also to actively develop eco-friendly products!
ecoFACTS declares BenQ's greatest efforts on the replacement of hazardous substances, material selection, packaging design, energy-saving design and other aspects of the products.