---
Brilliant projection wherever you go
The diminutive Acer K335 is just smaller than a magazine, while providing the latest projection technologies and highimpact performance wherever you go.
Multimedia features allow you to project media from an SD card or a USB drive connected to the projector. Just leave your laptop at home!
The Acer K335 is the first LED projector with a bright 1000 lumen lamp. It delivers HD ready high quality images with enhanced color saturation.
Value proposition
The LED lamp not only extends lamp life, but also provides bright images (1000 lumens).
The SD/USB Multimedia reader opens standard office (PowerPoint, Excel, Word and PDF) and multimedia files (audio, video and photos).
Ultra-lightweight, compact design delivers powerful projection with great mobility.

Prolific imagery, portable design
Ultra-lightweight and compact form factor
Designed with a slim, 1.3 kg form factor, the K335 is ideal for traveling sales people and SOHO professionals who want powerful projection performance in an attractive, easy-tocarry package.

Acer ColorSafe II technology
Acer ColorSafe II technology uses dynamic RGB gain control to better secure color fidelity as compared to traditional DLP® projectors

Prolific imagery, portable design High resolution, brightness and contrast ratio
WXGA resolution brings sharp details and fine print into focus. Users can adjust the level of display detail required for the usage scenario.
High brightness and contrast ratio project crystal clear, vibrant images from a long distance on a large screen.
DynamicBlack™ technology dramatically improves image contrast by using dynamic lamp power adjustment to analyze content frame by frame. Acer projectors featuring this technology dynamically adjust dark scenes to optimal black levels while maintaining the original brightness of bright scenes, resulting in the most vivid image quality and a high contrast ratio of up to 4000:1.
Versatile installation and connectivity
Special feature: Presentation To Go
The K335 features built-in SD Card and USB multimedia readers that enable the Presentation To Go function: full access to photos, videos, music and documents in various formats, directly from the projector — no need for a laptop PC or video player!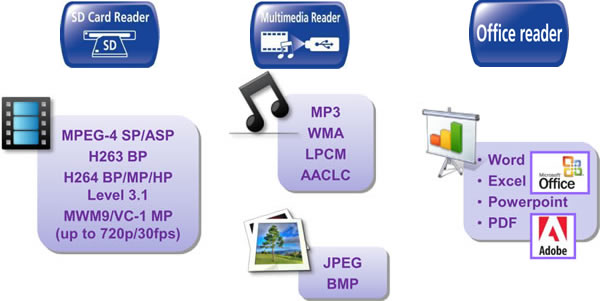 Digital connectivity: HDMI®
 HDMI® ports deliver uncompressed digital signals and multi-channel audio, providing easy connectivity to high-quality HD broadcasts or entertainment.
Multi-PC connectivity
 The projector is equipped with at least two connectors for multiple-PC source input, including D-Sub and HDMI®, offering more flexible connectivity and instant switching.

LED technology overview

Benefits of LED lamps
• Smaller lamp size offers design flexibility
• Long lifespan reduces cost and delivers an always-available light source
• Instant on/off capability
• Better color saturation — from 60 to 130% NTSC
• High durability, as there are no breakable filaments or tubes
• No hazardous mercury or halogen gases
Acer ePower Management
• Create customized power-saving configurations
ECO friendly functionality
A complete environment-friendly power management solution that reduces power consumption by up to 70% in ExtremeEco mode

Auto Shutdown
• Menu setting that switches the projector to standby mode when there is no signal input
ExtremeEco
• Enables up to 70% power saving when there is no signal input
• Saves cost and extends the lifespan of the lamp Longer lamp life
• LED lamp saves lamp replacement costs and ensures long-term, dependable projector use