---
Quick Facts:

NEC M363WG Throw Distance Chart

(Examples for common Sizes)

Image Size
Installation Distance
(Approx. To Lens)
83" (16:10) 1790x1120mm
From 2.1m to 3.6m
98" (16:10) 2110x1320mm
From 2.5m to 4.2m
118" (16:10) 2540x1590mm
From 3.0m to 5.1m

SPECIFICATIONS
Native Resolution: WXGA 1280 x 800 16:10
Brightness: 3600 ANSI Lumens
Maximum Contrast: 10,000:1
Weight: 3.49kg
Fan Noise: 33 / 26db (eco)
Warranty: 5 Years
Optical Block Warranty: 2 Yrs/2000 Hrs
Lamp Warranty: 6months/2000hrs
Lamp Life Up To: 8,000hrs

FEATURES
- 2x HDMI Connection
- Auto Vertical Keystone
- Horizontal Keystone
- 1.7x Zoom
- Powerful 20W Speaker
- USB stick reader (jpeg only)
- USB to laptop Connection
- Optional Wireless
Easy to use and at the right price, M Series projectors provide all the essential features that you need to connect with your audience.
Essential Features for Educational Facilities
Essential Features for Educational Facilities
• Plug and Play intuitive setup and operation
• Bright images easily viewed in any application
• Versatile, color-coded connections to computer, video sources and external monitor
• Automatic keystone correction technology instantly projects a square image even when the projector is set up at a steep offset angle to the screen
• AutoSense™ intuitively syncs the projector with most computer signals and features one-touch image optimization
• One-touch source changes and complete menu control using the intuitive projector keypad
• Powerful 20-watt speaker provides volume needed for large rooms
• High contrast images (10,000:1) from the latest Texas Instruments DLP engine featuring BrilliantColor™ technology with improved color accuracy
• With XGA and WXGA native resolutions, high brightness up to 4000 lumens and patented NEC technologies, M Series projectors display impressive image quality
Designed with the Environment in Mind
• Extended lamp life with ECO Mode™ technology increases lamp life up to 10,000 hours, while lowering power consumption
• Power management enables projector to automatically turn off when an incoming signal is not detected from any of the inputs
• Auto Power On via the RGB (15-pin) input connector when a signal is detected from a computer
• Carbon savings meter calculates the positive effects of operating the projector in ECO Mode, which is encouraged by an optional message at startup. A green ECO Mode button on the remote control makes the switch easy.
• Quick start (3 to 4 seconds) lets you begin presenting in seconds
• Sleep timer can be set to automatically turn off the projector at set countdown times
• Low power consumption (0.2W in stand-by mode) minimizes energy costs
Advanced Networking Capabilities

• Integrated RJ45 connection for quick connection to the LAN (10/100 base-T capability)
• Remote diagnostics enable the user to monitor and make adjustments to the projector remotely
• PC CTL 4.0 controls the power switching input selection and other functions while managing lamp usage and a variety of other vital information over the network. Email notification and projector scheduling for better asset management is included with the software.
• PC CTL 5.0 for MAC users
• Control and receive important broadcast messages via Crestron Roomview™
• Wireless Image Utility (WIU) sends images directly from an iPad to the projector (requires wireless LAN module NP02LM1)
• Simple Access Point Sending photos and documents have never been easier from a computer or iPad.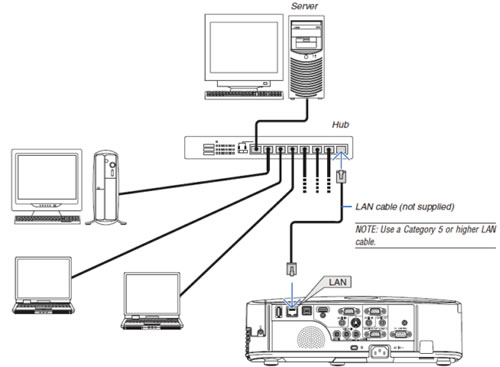 Image Express Lite
Dedicated projector software provides wired and wireless data transmission via peer-to-peer or over the network.
Advanced Eco Mode
ECO Mode
Lamp control selections with the ability to change power dependent on the ambient lighting conditions. With a built-in ambient light sensor, automatic adjustment of the projectors lamp provides unprecedented brightness control resulting in bright images for most environments. Automatically dim the image with the new Auto-dim feature to control the brightness of static images and extend lamp life. Constant brightness control prevents the usual drop in brightness over time while maximizing lamp life.
Advanced Software Features
Built-in wall color correction presets
These provide for adaptive color tone correction to display properly on non-white surfaces.

Top cover lamp change
This feature provides for easy lamp changes without removal of the projector from the mount.

Active lens cover
This cover enables presenters to immediately mute the audio and video, then seconds later lower the lamp brightness to 25% for a short period of time.
Get Connected with a Wide Selection of Inputs
• Dual HDMI inputs ensure quick switching between presentations
• Four audio inputs (two mini stereo, R/L and HDMI™) make it easy to add sound to enhance your presentations
Remote control
Easy control from remote allows you to adjust lamp mode, aspect ratio, volume and image all with the touch of a button.

HDMI input
Among the M Series' wide selection
of inputs is an HDMI w/HDCP for
connecting to high-definition sources
such as Blu-ray players, cable boxes,
satellite receivers and personal
computers.

Variable audio-out
This input enables the remote control to be used to adjust volume of selfpowered external speakers that are connected to the projector. In stand-by mode, the audio-out stays active, allowing the last input used to pass to the self-powered external speakers.
USB Viewer
In instances when you'd prefer to leave your laptop behind for a presentation, M Series projectors can deliver a solution. Using the presentation conversion software included with your projector, simply place your file onto a USB drive and plug it into the projector's USB port. This allows you to display images stored as .jpgs images from optional USB memory.

USB input
Your connection options go even further with the M Series.
Connect your laptop or PC directly to the projector using
the USB port and a standard USB cable.