---
Free to Share Anytime, Anywhere

Featuring upgraded wireless sharing and smart device projection plus built-in 2W speakers with SRS WOW HD™ , the BenQ Joybee GP3 is a short-throw HD-ready mini projector designed to connect and project like never before. So kick back and enjoy a fabulous time. All you need to do is plug and play!

Free to Be With BenQ Joybee GP3
The freedom of dynamic wireless projection

With upgraded wireless sharing, the BenQ Joybee GP3 mini projector gives you the freedom to put your personality on display anytime, anywhere. Improved smart device projection, an all-in-one Apple iPhone/iPod dock, built-in 2W speakers with SRS WOW HD™ and incredible short-throw projection let you take the good times with you. HD-ready image quality offers an amazing viewing experience and with up to 30,000 hours of reliable brightness in Eco Mode, the fun virtually never has to end!
Wireless Sharing Options that Simplify…Everything
Connect and project like never before with the most wireless options ever on the GP3! A broader range of smart device and software compatibility make it a snap for everyone to share the love.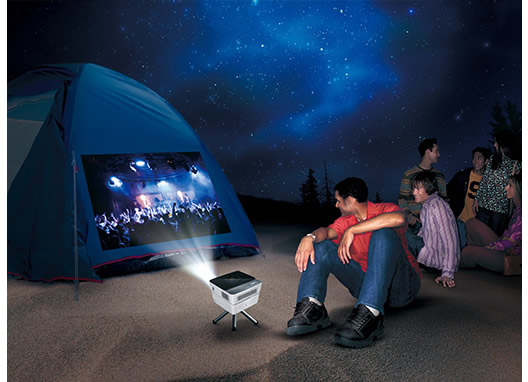 Stream to Me
All new Stream to Me capabilities help you project video, music, and photos wirelessly from any smart device with any DLNA-compatible app (e.g. iMediaShare). No matter if you're on a phone or tablet, using iOS, Android, or Windows. – the GP3 lets you to share with a large audience directly from your device.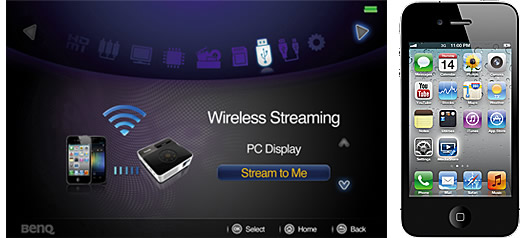 PC Display
Connect wirelessly from a Mac or PC using PC display mode and project with screen mirroring in brilliant 720p and audio streaming. Whether it is movie night at home or a dance party on the patio, the user-friendly interface of PC mode makes connecting quick and easy.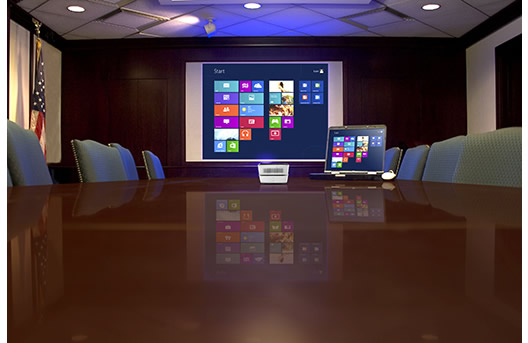 Plug 'N Play for Instant Sharing
Plug in your iPhone or iPod to share videos, photos and games on a big screen up to 160" via applications that support TV-out. This all-in-one dock even charges your Apple device while you're using it, so the fun never stops.

New UI Control
The new GP3 iPhone/iPod user interface accesses the files on your device directly, eliminating extra steps and putting all your videos, music, and photos right at your fingertips.

PC-Less Sharing - Do More with Less
The GP3 simplifies plug 'n play connectivity by allowing you to access and project video, photos and documents directly from a USB drive or SD card.
A Palm-Sized Projector that Super Sizes Fun
Built-in features mean built-in fun! With no extra speakers and no cords, there's no excuse not to think outside the box about the cinema experience.

Get Carried Away with Portable Projection
The compact design of the GP3 is key to its portability and dynamic projection options. Measuring just 12.9cm x 14cm, the GP3 gives you 2.5 hours of mobile cinema entertainment, running at 150 ANSI lumen brightness on a fully charged battery. It fits in your palm and it's ready to go!
2W*2 Speakers with SRS WOW HD™
Two expertly-tuned, built-in 2W speakers sound like more fun for everyone. SRS WOW HD™ technology significantly improves audio playback quality, delivering deeper bass tones and high frequency clarity for crisper detail*.
*WOW HD is a trademark of SRS Labs, Inc. WOW HD Technology is incorporated under license from SRS Labs, Inc.

Enlighten Any Small Space with Big & Brilliant Pictures
BenQ's 3LED technology and GRB LED lights help the GP3 bring you cinematic picture quality with optimized contrast and wide color gamut. Add in HD-ready resolution and you'll want to take this experience with you everywhere.

HD-Ready 720p Resolution
Get all the details thanks to HD-ready 720p solution.

40" Big Picture at a Short Distance
Enjoy the extra flexibility of short-throw projection with a 1.16 throw ratio. An image size of 40" at 1M -and a maximum projection surface of 160" - lets you enjoy a personal cinema or entertain a crowd.

New Color & Finish
Clean lines cut in black, white and orange give the GP3 an attitude all its own – bold, unique and sleek. When you see your iPhone attached to the built-in dock, you might just find yourself thinking they were made for one another.
"Made for iPod," and "Made for iPhone," mean that an electronic accessory has been designed to connect specifically to iPod and iPhone respectively, and has been certified by the developer to meet Apple performance standards. Apple is not responsible for the operation of this device or its compliance with safety and regulatory standards. Please note that the use of this accessory with iPod and iPhone may affect wireless performance. © 2013 BenQ Corporation. All rights reserved. Apple, the Apple logo, iPad, iPhone, iPod, iPod classic, iPod nano, iPod shuffle, and iPod touch are trademarks of Apple Inc., registered in the U.S. and other countries.
ecoFACTS Label
ecoFACTS can tell you how eco-friendly BenQ products are!
Development of eco-friendly products, BenQ doesn't just want to comply with green regulations passively, but also to actively develop eco-friendly products!
ecoFACTS declares BenQ's greatest efforts on the replacement of hazardous substances, material selection, packaging design, energy-saving design and other aspects of the products.