---
Quick Facts:

Epson EB-2055 Throw Distance Chart

(Examples for common Sizes)

Image Size
Installation Distance
(Approx. To Lens)
84" (4:3) 1650x1237mm
From 2.4m to 3.8m
100" (4:3) 2030x1523mm
From 2.9m to 4.6m
120" (4:3) 2360x1770mm
From 3.4m to 5.5m

SPECIFICATIONS
Native Resolution: XGA 1024 x 768 4:3 Brightness: 5000 ANSI Lumens
Maximum Contrast: 15,000:1
Weight: 4.5kg
Fan Noise: 37 / 29db (eco)
Warranty: 3 Years (

+1 Year $119

)
Lamp Warranty: 12 months / 750 hours
Lamp Life Up To: 10,000hrs

FEATURES
- Vertical & Horizontal Keystone
- Powerful 16W Speaker
- 1.6x Zoom
- 2x HDMI Connection
- MHL Compatible
- USB to laptop Connection
- Instant Off
- Wireless - Included
- iPad, iPhone Wireless Projection
Epson EB-2055 Corporate Multimedia Projector
The EB-2055 offers a 5000 lumen brightness level perfect or well lit areas and with the 4:3 aspect ratio is an amazing unit for replacement installations. With a 4:3 aspect ratio it can match up to older screens and with the wide 1.6x zoom lens can match many installation points saving time and money replacing older screens and rewiring.
It not only offers older VGA and composite connections but also newer HDMI connectors and Wifi inbuilt improving image quality from older analogue cables and improving connectivity for newer devices. Rounded off with a long lamp life of up to 10,000 hours and a cheap replacement cost of $149 the EB-2055 features cheap running costs.
KEY FEATURES & BENEFITS
3 x Brighter Colours and reliable performance* – 3LCD, 3-Chip Technology. Look for both high colour brightness and high white brightness

Crisp Clear Resolution – Featuring XGA (1024 x 768)

Versatile Connectivity – Easily integrate with any system with HDMI and MHL

Wireless Functionality – Wi-Fi

Gesture Presenter – Simply move your hand in front of the presentation

Split Screen – simultaneously project two images, video or still, side by side, from two different sources

Epson iProjection™ – Wirelessly display and control content from your iPhone®, iPad®, iPod touch® and Android™ devices

USB Display Function – Project via a simple USB cable connection without having to change the monitor output setting on the PC

Automatic Setup – The Automatic Screen Fit function adjusts focus, zoom, horizontal and vertical keystone all at the touch of a button

3x Brighter Colours with Epson*
Brilliant image quality requires high colour brightness (colour light output), and Epson® 3LCD projectors have 3 x Brighter Colours than leading competitive projectors*.
One brightness measurement (lumens) is not enough. A projector's specification needs to show both high colour brightness and high white brightness. If colour brightness is lower than white brightness, images may be dark, dull and lose detail. If not provided, be sure to ask for a projector's colour brightness specification.
*Compared to leading 1-chip DLP business and education projectors based on NPD data, July 2011 through June 2012. Colour brightness (colour light output) measured in accordance with IDMS 15.4. Colour brightness will vary depending on usage conditions.
3LCD technology

All Epson projectors are based on 3-chip LCD technology for amazing colour, incredible detail and solid reliability. 3LCD's 3-chip architecture dedicates an entire chip to process each primary colour – red, green and blue, continuously. Unlike single-chip technology that delivers colour sequentially, you get full-time colour. The result is vibrant, realistic images and video all delivered with 3LCD's true-to-life colour.
High brightness
Even though its light weight and compact size enables it to be carried from room to room, the projector is capable of highly visible images thanks to its high brightness (up to 4,200lm) and superior 15,000:1 contrast ratio. Room lights don't have to be dimmed to see bright and clearly projected images, allowing meeting participants to concentrate better for improved meeting productivity.
Epson iProjection App

Display and control content from your iPhone, iPad or iPod touch, Android and Chrome devices with the Epson iProjection App. This free application allows road warriors to travel light and present from their mobile devices. The app is easy to use and intuitive menu options bring your content to the bigger screen.
Auto V/H keystone and screen fit

In cases where the image extends beyond the frame of the screen or whiteboard you just have to push the "Screen Fit" button and the image frame automatically matches up with the edges of the screen.
Auto power on feature

The projector starts automatically upon connecting a VGA*, HDMI**, or USB cable to the device itself. This feature means you no longer have to use the power on button because startup is activated with cable insertion.
*VGA auto power on is available with Computer 1 only
**HDMI auto power on is available with HDMI1 only
Gesture presentation

Present smarter with newly added 'gesture presentation' function. Simply move your hand in front of the arrows, and make your presentation more engaging and realistic with the audience.
Split Screen
Split Screen allows you to display content from two inputs simultaneously, side by side, on a single screen. With three layout options you can display video and presentation materials, and run video on both screens.

New home screen

New home screen offers quick and easy access to a variety of useful functions. Also, all source information, no matter what the source input is, can be seen at a glance. Wireless connections can be made easily because all the information you need is right there on the screen.
EasyMP Multi-PC projection

The EasyMP Multi PC Projection application makes it possible to connect with up to 50 computers and partition the screen for split screen projection.

The moderator can select up to 4 of the connected devices and project their screens from the projector, maintaining control and preventing interference with the projected screen.
EasyMP Monitor
With EasyMP Monitor, Epson's network monitoring and control software, a single PC can see which projectors are available and if they are running efficiently, even across the biggest of networks. This series can be configured remotely, with instant email alerts for pre-defined critical indicators such as non-functioning devices or overheating lamps. Each projector's serial number can also be accessed remotely via LAN/serial connection.
Wireless LAN Enterprise security
The EB-2000 series projectors now include 'WPA-Enterprise security' mode to connect in robust integrated network environment; compatible with WPA, WPA2-PSK and WPA2-EAP security protocols.
Longer lamp life

The long 10,000H* lamp life saves time and money by reducing the frequency of costly lamp replacements.
*Power Consumption: ECO mode
Connectivity Panel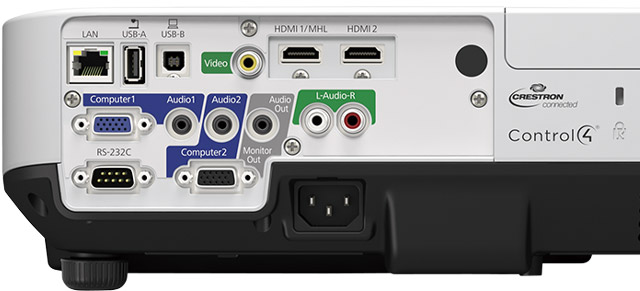 ---
Specifications
PRODUCT NAME
Epson EB-2055
PRODUCT CODE
V11H821053
EAN
9314020623790
TECHNOLOGY
Projection System
Epson 3LCD, 3-chip technology
LCD Panel
0.63-inch panel
OPTICAL
Zoom
1-1.6 (Optical Zoom)
Screen Size
30" to 300" [0.83m to 8.54 m] (Zoom: Wide)
30" to 300" [1.36m to 13.86 m] (Zoom: Tele)
Projection Distance
60" screen 1.69m - 2.75m
Throw Ratio
1.38 (Zoom: Wide), 2.24 (Zoom: Tele)
Projection Lens F Number
1.51 - 1.99
Projection Lens Focal Length
18.2mm - 29.2mm
Focus Method
Manual Focus
Offset
8.6:1
IMAGE
Colour Light Output
5,000 Lumens
White Light Output
5,000 Lumens
Resolution
XGA
Native Aspect Ratio
4:3
Contrast Ratio
15,000:1
Lamp Hours
Normal/Eco: 5,000/10,000 Hours
Lamp Type
300W UHE
Keystone Correction
Vertical: -30 to +30 degrees
Horizontal: -30 to +30 degrees
CONNECTIVITY
Input: Video
1 x RCA (Yellow)
Input: Computer
2 x D-sub 15-Pin (RGB), 1 x USB 2.0 type B
Input: USB Memory Device
1 x USB Type A
Input: Three-In-One USB Display
1 x USB 2.0 type B
Input: Digital
2 x HDMI (1 x MHL)
Input: Audio
1 x RCA (Red/White), 2 x Stereo mini jack
Input: Control
1 x USB 2.0 type B, 1 x RS232C
Input : HDBaseT
NA
Input: Epson USB Document Camera
1 x USB 2.0 type A
Network I/O:
1 x RJ45 (100Mbps)
Wireless Connectivity
Included
WiDI/Miracast
NA
Output: Video
1 x D-sub 15 pin (black moulding)
Output: Audio
1 x Stereo mini jack
Speaker Output
16W
ADVANCED FEATURES
EasyMP Network & Control
Yes
EasyMP Network Projection
Yes
PC Free Presentations
Yes
USB Plug 'n Play
Yes
AV Mute Slide
Yes
Instant Off
Yes
Auto Power On
Yes
Direct Power On/Off
Yes
Security
Padlock & Security Cable Hole
Kensington®-style lock provision
Wireless LAN Unit Lock
Password protect function
Colour Modes
Dynamic, Presentation, Cinema, sRGB, Blackboard, DICOM SIM
GENERAL
Dimensions D x W x H (excluding feet)
291 x 377 x 101 mm
Weight
4.5kg (approximate)
Compatible lamp model
ELPLP95 (New)
Lamp Warranty
12 months or 750 hours*
Projector Warranty
3 Years
Power Consumption: Lamp on
Normal/Eco: 410/350W
Power Consumption: Standby
0.5W (communication off)
Noise Level
Normal/Eco: 39/29dB
Rear Panel
---