---
Quick Facts:

BenQ W1110 Throw Distance Chart

(Examples for common Sizes) T/R 1.15-1.5:1

Image Size
Installation Distance
(Approx. To Lens)
92" (16:9) 2030x1140mm
From 2.4m to 3.0m
100" (16:9) 2130x1200mm
From 2.5m to 3.2m
110" (16:9) 2435x1370mm
From 2.8m to 3.6m
120" (16:9) 2580x1450mm
From 2.9m to 3.8m

SPECIFICATIONS

Native Resolution: WUXGA 1920 x 1080 16:9

Brightness: 2200 ANSI Lumens

Maximum Contrast: 15,000:1

Weight: 3.3kg

Fan Noise: 29 / 27db (eco)

Warranty: 2 Years (

+1 Year $119

)

Lamp Warranty: 6months/750hrs

Lamp Life Up To: 6,000hrs

FEATURES
- 1.3x Zoom
- 10% Vertical Lens Shift
- Vertical Keystone Correction
- 2x HDMI connections
- MHL Compatible
- Powerfull 10W Speaker
- 3D Capable(3D glasses required)


BenQ W1110 1080p Home Projector
W1110 brings the true movie theater experience into the home with sharp, crystal-clear picture quality. W1110 features a 1080p full HD optimised optical system for unmatched picture clarity and detail along with lens shift, short-throw technology, big zoom, as well as Full HD wireless connectivity and user-friendly interface. Users can easily enjoy the luxury of entertaining family and friends in the privacy of their own home theater with professional-quality audio-visual projection.
key features
Spectacular High Brightness, Full HD 1080p Visual Performance

Lens Shift for Extra Installation Freedom

Short-Throw Projection (100''@2.5m)

Enhanced Chamber Speaker (Powered by MaxxAudio) with Audio Enhancer

Ultra-Modern Design & Low Acoustic Noise of 27dBA
Big-Screen Enjoyment with Sharp, Crystal-Clear Picture Quality
With a harmonious combination of luxurious silver color and elegant curves, W1110 delivers modern aesthetics and complements today's lifestyles. And in addition to ultramodern design, wireless video transmission and easy installation, the newly enhanced airflow and fan architecture in W1110's thermal system reduces acoustic noise to 27dBA in Eco mode, the lowest fan noise in its class, to provide a more pleasant viewing experience.
Spectacular Full HD 1080p Visual Performance

Treat your eyes the brilliance of a 1080p Full HD optimized optical system crafted with only pure glass lens elements. Enjoy HD content with the finest clarity and sharpness – from Blue-ray and video games to live broadcasts.
Turbocharged Color Wheel

We've boosted our six-segment color wheel (RGBRGB) with 6X speed to maximize color depth and range for the clearest images. And with BrilliantColor™ Technology enhancing each color, the W1110 home projector achieves truly captivating, lifelike colors without the rainbow effect. So you can enjoy the show in pure, living splendor.
Hollywood Magic in Your House

CinemaMaster turns any room into a world-class home theater with audio-enhancing technology sure to please even the most critical movie enthusiasts. With 10-watt speaker housed in resonant sound chamber plus BenQ Audio Enhancer powered by MaxxAudio, your sound booms with Waves' breakthrough algorithms used by Hollywood studios, to dramatically boost bass and treble for serious stereo sound.
Independent 3D Color Control for All 6 Primary Colors
BenQ's unique color management tool allows you to fine-tune the gain, saturation and hue of six primary colors (R/G/B/C/M/Y) individually. So you can customize your colors to mimic nature, to simulate other galaxies, and to everything in between.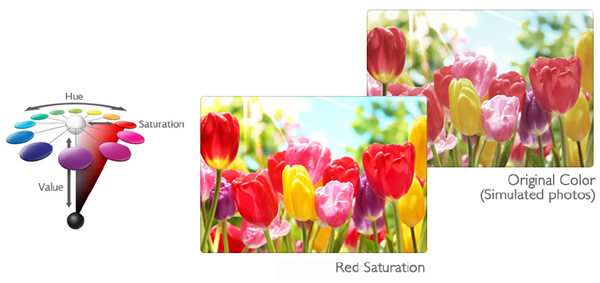 ISFccc®Certification
Professionally Calibrated Visual Entertainment
With the Imaging Science Foundation's highly reputed ISFccc® calibration built-in, the W1110's image and color performance can be customized for any space, along with preset light balance modes for day and night.
BenQ SmartEco™:
An ingenious solution that intensifies your viewing pleasure while saving money, SmartEco™ automatically adjusts lamp brightness based on content to project richer blacks and increase contrast for tiny text and subtle details.

Setup in Minutes with Hassle Free Installation
Superior Short Throw Projection with 100" of Big-Screen Enjoyment at 2.5 Meters
Maximize thrills in minimum space with BenQ home projectors that require as little as 2.5m to project stunning 100" pictures. Bring big-screen theater entertainment into whichever room you like.

Big Zoom for Big Pictures in Any Space

A staggering big zoom function maximizes available space for a range of throw distances and big-screen entertainment without the hassle of complicated installation.
Flexible Vertical Lens Shift
Vertical Lens Shift provides flexibility when installing or setting up the projector. Images can be shifted up and down without suffering a decrease in image quality.
Novice-Friendly Setup Wizard
First-time setup with this home projector is such a breeze, you'll be done before you know it. Simply follow the step-by-step pictures provided by the setup wizard, and the W1110 will be perfectly customized.

Easy Projection onto Any Color Surface
Wall Color Correction adjusts colors to keep the viewing experience true to the original recording on any color surface.
One Stop Home Entertainment Without Wires (Optional)
The Wireless Full HD Kit is a killer companion to BenQ home theater projectors - stream uncompressed 1080p content, even in 3D! With a wireless range up to 100 ft. from four powerful antennas, you get crystal clear streaming, even through walls.
One-Time Setup pairs with the projector automatically stays that way, while Zero Latency performance gives you smooth video and gaming with virtually no lag. Four antennas provide up to 100 ft*. of coverage and Dynamic Frequency Selection switches channels for smooth, sharp streaming.

*Line of sight. Transmission distance depends on actual environment. Stated distance is based on line-of-sight measurement. Structures constructed of steel, wood, concrete, or brick may decrease transmission distance.

Wireless FHD Kit (optional)

• Uncompressed streaming with resolution up to 1080p 60Hz
• Stream up to 100 feet with no latency for great gaming experience
• Ultra stable and fluent streaming quality